A Weekend for Remembrance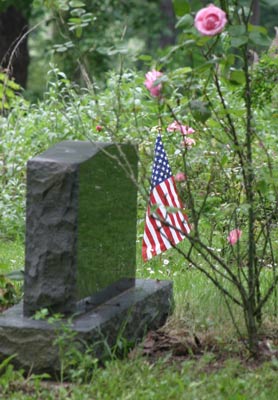 At the end of May, many families make pilgrimages to honor their deceased. The Eugene Masonic Cemetery welcomes hundreds of visitors each year for Memorial Day Weekend. To make such visits rewarding for all at this special time, we have developed a variety of activities.
An especially moving event is the playing of Taps by a solitary bugler or trumpeter in the Public Square at about noon on Sunday and Monday. Flags placed at the graves of all veterans also honor their service. Following Taps, guided tours are available to showcase features of the landscape and other highlights of the cemetery.
Historic Hope Abbey mausoleum is open on Sunday and Monday, with displays that illustrate the cemetery's history, as well as coffee and delicious cake. A fun, family-oriented activity available to all is the "history hunt," a game similar to a scavenger hunt, which takes guests throughout the cemetery to find answers to questions about its history, then returns them to Hope Abbey to claim their rewards.