A Weekend for Remembrance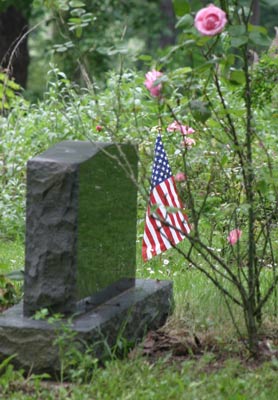 At the end of May, many families make pilgrimages to honor their deceased. The Eugene Masonic Cemetery welcomes hundreds of visitors each year for Memorial Day Weekend.
We're delighted to restore our full complement of Memorial Day weekend activities following our reduced offerings during the pandemic. The cemetery is looking magnificent under the dedicated care provided by Diego Llewellyn-Jones and Alex Schumaker. Hope Abbey will be full of displays informing visitors about the cemetery's history, and slices of high-caloric cake will enable them to climb the hill to hear "Taps."
For over 20 years Taps has been sounded from the Public Square on Memorial Day weekend. This year it will be played at 12:15 on Sunday and Monday by Barry Barreau. It will be followed by guided tours of the cemetery, which will begin at Hope Abbey at 12:30. On Sunday the tour features the landscape and will be led by Diego, EMCA landscape manager. On Monday, the tour, "Cemetery Highlights," will be led by Caroline Forell, EMCA board president.
Of course, visitors can enjoy self-guided tours at any time using the graveside historic plaques and walking-tour brochures describing the site's occupants. They can also appreciate the more than 100 veterans buried in the cemetery, identified by the US flags flying over their graves or placed in front of their Hope Abbey crypts.
A fun family-oriented activity available to all is the "history hunt," a game similar to a scavenger hunt, which will take guests throughout the cemetery to answer questions about its history. There are two versions of the game—"Find the Veterans" or "Tombstone Tales." Prizes are offered for everyone who participates! Game information is available in Hope Abbey.
After visitors have completed their exploration of the cemetery grounds, they can return to Hope Abbey and check out the displays illustrating the cemetery's history.  Carol Houde, professional antique clothes collector, will exhibit and talk about one of the early 1900s dresses from her extensive collection.  Old cemetery monuments, before and after they have been cleaned by our grounds crew and volunteers, will be on display.  And, best of all, cake and coffee will be available. The cakes will be prepared by Reality Kitchen, a nonprofit food service training program in Eugene.
Hope Abbey will be open from 11:30 am to 5:00 pm on May 29 and 30.