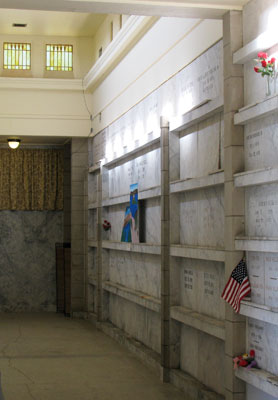 Hope Abbey Mausoleum provides an elegant alternative to in-ground burials. Its walls are white Alaskan Marble, the floor is marble terrazzo, and golden stained-glass windows are clad in copper.
The Eugene Masonic Cemetery Association has worked diligently to restore the structure to its original glory. Restoration of the interior, by artisans and volunteers, continues.
Choosing Hope Abbey for a final resting place is choosing a sanctuary in a truly unique historic building. Niches for cremated remains and crypts  for caskets are still available.
Ordinarily kept secure and locked, the huge copper-clad doors are opened to the public from 1:00 pm to 4:00 pm on the last Sunday of each month except December and on special occasions such as Memorial Day weekend.
To arrange a visit inside Hope Abbey outside of regular open hours, please contact us.