Hope Abbey Mausoleum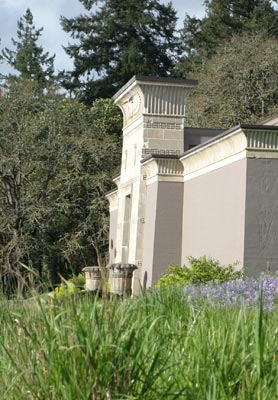 The mausoleum was designed by Ellis F. Lawrence,  the first Dean of the University of Oregon's School of Architecture and Allied Arts.
Hope Abbey is an outstanding example of the Egyptian Revival style popular in the early 20th century, with its massive entrance archway, papyrus bundles in relief, and lotus leaf urns on either side of the copper-clad doors. At its dedication in 1914, the Masons included a time capsule to be opened in a thousand years, in 2914!
After many years of deterioration and inactivity, Hope Abbey is once again an operating mausoleum. Thanks to the generosity of donors, the clerestory windows have been unbricked and replaced with replicas of the original golden and leaded glass. An overhaul of the front porch now provides wheelchair access. Major rehabilitation projects have included marble restoration on both walls and floor, as well as structural work to help the building last another hundred years.
Hope Abbey, located near where 25th Avenue and University Street would meet, is open to the public on Memorial Day weekend, and from 1 to 4 pm on the last Sunday of each month except December.