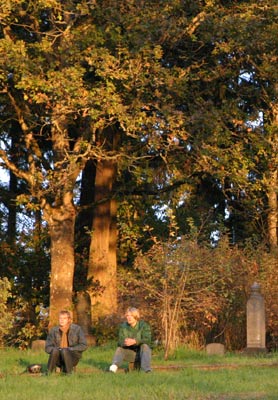 Concert and Open House
September's Last Sunday events will be this weekend on September 25. Each event provides an opportunity to visit the inside of the beautifully restored 1914 Hope Abbey Mausoleum.
The doors open at 1 PM for the Music To Die For concert, which begins at 1:30 and will last about an hour. The featured artists this month are husband/wife team Mike & Carleen McCornack, with Dale Bradley joining them on cello. Seating is limited, so come early to enjoy this free concert. (learn more)
After the concert, the building will be open until 4 PM. Feel free to come in and wander around. Two knowledgeable people will be on hand to answer questions you might have about the historic building, as well as about the cemetery itself. Masking is encouraged, but not required.
Please park on city streets, because there is no parking on the cemetery grounds.
About the cemetery
This community treasure is listed in the National Register of Historic Places. Remarkably, it is also an active, operating cemetery. Established in 1859, Eugene's first chartered cemetery includes pioneers, such as city founder Eugene Skinner and artist Maude Kerns. The cemetery retains "Masonic" in its name, as an important historic reference, but is no longer officially affiliated with the Masonic Lodge.
Donations to Eugene Masonic Cemetery Association qualify for the Oregon Cultural Trust tax credit. See OCT's web site for more information on how to participate.
In addition to traditional burial plots, the Eugene Masonic Cemetery offers a variety of services and memorials. Our administrator will be happy to help you with your choices. Email emca1859@gmail.com or call (541) 684-0949.
---
Video Tour of the Eugene Masonic Cemetery
Acknowledgements and Credit: Nick Shafer (videographer) and Hugh Prichard