A Weekend for Remembrance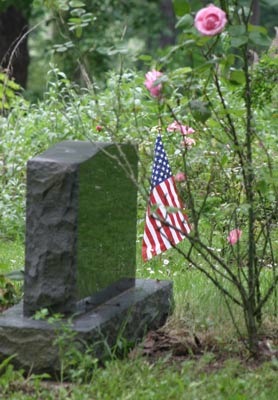 At the end of May, many families make pilgrimages to honor their deceased. The Eugene Masonic Cemetery welcomes hundreds of visitors each year for Memorial Day Weekend.
Preparations for this event include a volunteer work party to groom the trails and place US flags to honor Veterans.
Hope Abbey Mausoleum has an Open House from 11:30 am to 5 pm Sunday and Monday, with refreshments and exhibits of the cemetery's flora and history. A historic treasure hunt provides prizes for children.
Taps are played in the public square at noon each day.

**Owing to COVID-19, there will not be a Sacred Harp gathering this year. Just wait!**
Each Thursday following Memorial Day, from 7:30 to 9:00 pm, all are invited to join the Eugene Sacred Harp Singers at the mausoleum. Traditional American shape-note hymns resound in the marbled chamber, loud enough to "wake the dead."