Your Contribution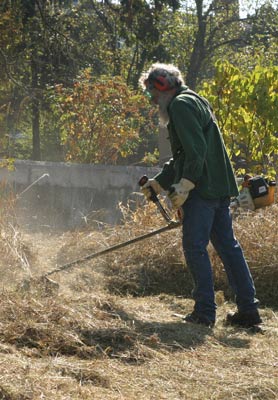 EMCA is a registered 501(c)(3) non-profit, so donations are fully tax deductible. A donation to EMCA is also eligible for the Oregon Cultural Trust tax credit.
Donate by credit card or PayPal by using the PayPal "Donate" link on this page. The good old-fashioned way works, too. Send a check to P.O. Box 5934, Eugene, OR 97405.
The generosity of many donors and volunteers is needed to improve and maintain the ten-acre Eugene Masonic Cemetery. Our budget includes expenses for trail and road maintenance as well as monument repair. Upkeep includes regular mowing and the constant battle with invasive blackberry and English ivy. The reward is a cherished park-like space, open to all.
Recent donor-funded projects at Hope Abbey Mausoleum have included restoring the marble "shutters" that form the interior walls and completely resurrecting the lovely sheen of the terrazzo floor, severely degraded by decades of abuse. Local glass artist John Rose has beautifully re-crafted the clerestory windows, a few of which remain for sponsorship by donors. One remaining mausoleum project is the restoration of the pilasters, the ornamental tops of the columns that separate the rows of crypts. If you'd like to fund that project or if you have another cemetery project you'd like to support, please let us know. We'll be happy to work with you.